Awards, News & Events
LATEST NEWS
25 June 2015 - Minister for the Environment and Water Resources Dr. Vivian Balakrishnan visits SolarGy's 1MW Solar PV System at PUB's Choa Chu Kang Waterworks.
Watch Dr Vivian's interview with news reporters
Read Straits Times news article
16 April 2015 - SolarGy received the Singapore Top SME Achiever Award 2014/2015 at the Mandarin Orchard.
The award is a testament and recognition of SolarGy's commitment to quality and professionalism in their solar projects and their endless pursuit of excellence. In the words of the Organiser, the award has been designed to celebrate the outstanding achievements of commercial businesses in Singapore. This award not only cements the accomplishments of these businesses, it also serves as a hallmark for said businesses and to motivate them to achieve even more. In addition to that, it also acts as a beacon of guidance for others who wish to walk down the same path, a common consensus among many to further enrich the entrepreneurial industry in Singapore.
20 March 2015 - New Fire Safety Rule Could Extinguish Singapore's Solar Sector.
News link
1 November 2014 - SolarGy to build 5 MW solar project at NTU
2 May 2014 - SolarGy partnered with RCS Engineering to build a 1 MW solar power plant at the PUB Choa Chu Kang Waterworks.
SolarGy will undertake the entire EPC works while RCS will finance and own the project and sell the clean electricity produced to PUB over a 20 year lease period.
-
Read CNA news article
-
Watch Channel 8's interview video
2 March 2014 - SolarGy to build the largest PV System At NTU
24 September 2013 - SolarGy's Managing Director giving a speech at the Solar Technology Seminar and participating at the panel discussion
May 2013 - SolarGy is proud to be the supporting partner of the CDL Green Gallery @ SBG Heritage Museum
May 2013 - SolarGy joins K-Green Trust to cheer the completion of their 1 MW project
Jan 2013 - SolarGy's Gardens by the Bay project featured in Southeast Asia Building Magazine
29th Oct 2012 - SolarGy's Managing Director gave talk on "Sustainability Presentation" to Ong&Ong Pte Ltd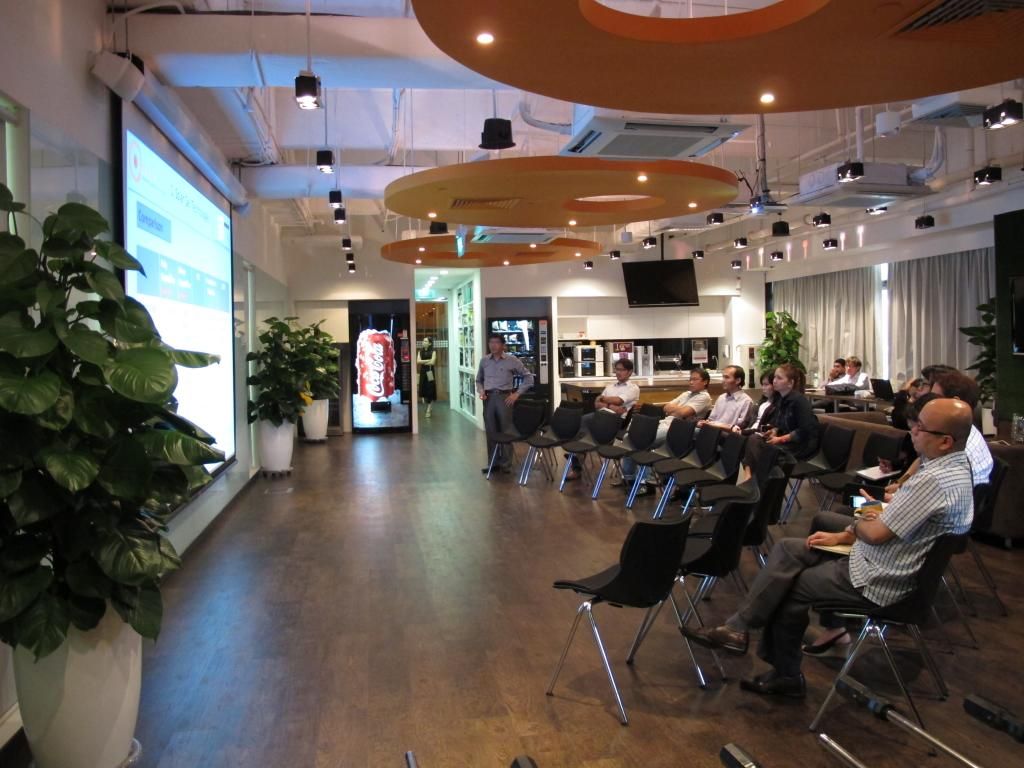 24th Oct 2012 - SOLARGY TO BUILD LARGEST SOLAR POWER PLANT IN SINGAPORE
SolarGy Pte Ltd, a leading solar photovoltaic system integrator based in Singapore, today announced that they have been awarded an engineering, procurement and construction (EPC) contract for a 1 MW grid-tied solar PV system at the Keppel Seghers Ulu Pandan NEWater Plant, a wastewater recycling plant. The contract was awarded to SolarGy by K-Green Trust, a business trust, which invests in green infrastructure projects with a focus in Asia, Europe and the Middle East.
SolarGy will install about 4000 Yingli solar panels over the roofs of the plant spanning an area of approximately 10,000 sq m. Yingli is the world's largest vertically integrated solar panel manufacturer. In the first half of 2012, they became the world's number one in terms of module shipment. When completed in 1Q2013, this one mega-watt peak (1000 kWp) renewable energy project will be the single largest PV installation in Singapore. In 2010, SolarGy also completed the single largest PV installation in Singapore, which is the 500 kWp PV system at the Resorts World at Sentosa. To-date, SolarGy has an impressive portfolio of about 2600 kW of completed and ongoing solar projects.
Albert Lim, Managing Director of SolarGy, said, "SolarGy is proud to be selected by K-Green Trust for this 1 MW PV project. We are able to consistently demonstrate professionalism and understanding of the K-Green Trust's unique requirements and provide appropriate responses and engineering solutions. We are confident that we will be able to deliver to the high standards set by the K-Green Trust.
Mr Thomas Pang Thieng Hwi, CEO of Keppel Infrastructure Fund Management, Trustee-Manager of K-Green Trust, said, "The advances in photovoltaic panels have allowed us a cost effective solution to harness renewable energy to reduce the consumption of conventional power at the wastewater recycling plant. We are happy to be able to lower the carbon footprint of the plant and contribute to the national effort to reduce dependency on traditional sources of energy."
Mr Lim added, "We hope to see more large corporations taking the lead to switch to clean energy so as to set significant reduction of their carbon footprint. With the falling prices of solar panels and coupled with our unique and cost effective way of executing the PV installation which we have developed and improved over the last 5 years, SolarGy was able to offer very good ROI for large PV systems which translate to very low levelized cost of clean electricity of about 12 c/kWh (based on 25 years system lifespan).

June 1 to 3, 2011 - SolarGy's Managing Director speaks at 1st Philippines Solar PV Summit



20th Jun 11 - Singapore: Lian He Zao Bao interviews KPMG and SolarGy

21st Feb 11 - Singapore: Channel NewsAsia's coverage on Highest PV installation in S.E.A. - Ocean Financial Centre


21st Feb 11 - Singapore: Ocean Financial Centre Solar PV project featured in Channel NewsAsia


AWARDS
SolarGy
's safety management system has been certified to bizSAFE Level 3 by the Workplace Safety & Health Council (WSHC) on 17 March 2012.
SolarGy
's office at Midview City has been certified by BCA for Green Mark Gold Plus in February 2012.
SolarGy has been awarded with the highly recognised Frost & Sullivan Singapore 2010 Market Penetration Leadeship Award in the Solar PV Systems Market.
The Frost & Sullivan Award for Market Penetration Leadership of the Year is presented each year to the company that has demonstrated excellence in capturing the fastest measured rate of change of market share within its industry. This Award recognizes how fast a company increases its penetration of a market, in terms of revenues or units as specified.
In its congratulatory message, Frost & Sullivan (www.frost.com) said that SolarGy has achieved noteworthy success in penetrating the highly competitive solar PV systems market in Singapore. The company has demonstrated clear plans to consolidate its position in the market by achieving very high revenue growth in a short span of time since its inception in 2007.
SolarGy participates in Singapore Sustainability Awards 2011.
SolarGy's Managing Director gave talk on Solar Photovoltaic System to HDB Centre for Building Research.
SolarGy's Managing Director obtained certification as Green Mark Manager.
NEWS
Aug 10 - Singapore: SolarGy's Ocean Financial Centre 75kWp Solar PV Project Featured In Building Review Journal
21st Jun 10 - Singapore: EDB to make Singapore a living lab
May/Jun 10 - Singapore: SolarGy Featured In Southeast Asian Building Magazine, May-June 2010 Issue
23rd Feb 10 - Singapore: Channel NewsAsia interviews SolarGy's MD
23rd Feb 10 - Singapore: SolarGy featured in Channel NewsAsia
11th Feb 10 - Singapore: SolarGy wins award for penetrating solar systems market
21st Sep 09 - Mainz, Germany: SCHOTT Solar extends performance guarantee on solar power modules
20th Jul 09 - Singapore: 500 kilowatt PV System to be Constructed on Sentosa Island
21st May 09 - Tokyo, Japan: Sanyo develops HIT Solar Cells with World's Highest Energy Conversion Efficiency of 23.0%
17th Feb 09 - Tokyo, Japan: Sanyo to Raise Cell Capacity to 600MW
11th Feb 09 - Osaka, Japan: Sanyo to build solar plant in Osaka
15th Jan 09 - US: Sanyo Exhibits HIT Double Solar Panels at The New American Home 2009
23rd Jan 09 - Tokyo, Japan: Sanyo and Nippon Oil Establish Thin-film Joint Venture
7th May 08 - $20m plan aims to boost solar tech in new buildings in Singapore
6th Feb 08 - Erfurt, Germany: ersol and Schott Co-operate on Development of Micromorphous Thin Film Technology
11th Jan 08 - Pfäffikon SZ, Singapore: Oerlikon Solar invests in Singapore to build up Asia business
6th Dec 07 - Alzenau, Germany: Schott Technology Raises Cell Efficiency While Lowering Silicon Usage
5th Dec 07 - Tokyo, Japan: SANYO to Establish Advanced Photovoltaics Development Center
27th Oct 07 - $6.3b solar plant to be set up in S'pore by 2010
EVENTS
SolarGy's Managing Director in Speakers list of Solar Energy Asia 2007
More Details on Solar Energy Asia 2007 Speakers List
News in detail
21st Sep 09 - Mainz, Germany: SCHOTT Solar extends performance guarantee on solar power modules
SCHOTT Solar AG continues to pursue its quality strategy and is now extending the guarantee conditions for its solar power modules. Effective immediately, the company is offering a 25-year performance guarantee on glass-foil modules and even a 30-year guarantee on double glass modules.
In addition to the new guarantee terms, SCHOTT Solar has introduced so-called continuous plus tolerance. This means that all of the modules that belong to a performance class generate at least the nominal power listed. These measures increase efficiency quite considerably for those who own photovoltaic systems and underscore the premium quality that SCHOTT Solar offers.
According to the Chairman of the Management Board and CEO Dr. Martin Heming, the company had good reasons for making this decision: "SCHOTT Solar looks back on a 51-year tradition in the area of solar modules. Many of our systems have been delivering high performances that have remained stable for decades. The tests we perform are twice as rigorous as the industry standard. The excellent results that we achieve clearly demonstrate our strong confidence in the quality of our products. Now, with the extended performance guarantee, customers will benefit even more from their decision in favor of SCHOTT Solar," he adds. The extended conditions apply for products that have left the warehouse since August 24, 2009.
A renowned organization even confirms the company's high standards for quality. The Fraunhofer Institute for Solar Energy Systems (ISE) evaluated a solar system from SCHOTT Solar with the help of an endurance test and attested that this system yielded outstanding values. On top of the roof of the Institute's building in Freiburg, the system has been in operation for 24 years, yet shows extremely low degradation of only 5.5 percent on average. For customers, this means decades of reliable performance and high yields, as a result.
17th Feb 09 - Tokyo, Japan: Sanyo to Raise Cell Capacity to 600MW
Sanyo Electric will increase production capacity for HIT solar cells by building new production facilities inside the grounds of the Nishikinohama Factory, Kaizuka City, Osaka, already a production base for Sanyo's proprietary HIT solar cells, to meet active demand for solar power generation equipment around the world.
The new building construction will begin today, and is expected to reach completion by October 2009.
While reviewing the market conditions, production is expected to start immediately to be better able to respond to market demands, and thereafter considered with a view to increase the facilities' productivity as necessary.
Currently, production for Sanyo's HIT solar cells is performed at the Nishikinohama Factory as well as the Shimane Plant, Shimane Sanyo Electric (Unnan City, Shimane Prefecture), with a combined production capacity total of 340MW.
While augmenting the Nishikinohama Factory, the overall production capacity will also be increased by adding production equipment to the existing Shimane Plant with the goal of reaching around 600MW by the end of FY2010 for HIT Solar Cell production capacity.
Sanyo, with its proprietary HIT solar cells and panels, will continue to grow its solar business, aiming to reach a production scale of approximately 2GW for HIT solar cells by 2020.
For thin-film solar cells, Sanyo will work with Nippon Oil Corporation through the joint venture company, Sanyo ENEOS Solar Co., Ltd., as announced on January 23rd this year, to expand this segment of the solar market.
23rd Jan 09 - Tokyo, Japan: Sanyo and Nippon Oil Establish Thin-film Joint Venture
Sanyo and Nippon Oil have decided to launch a joint company for the production and sale of thin-film solar panels, to be named SANYO ENEOS Solar Co., Ltd.
The new joint company will start production and sales at an initial scale of 80MW in Fiscal Year 2010 and gradually increase its production capacity while reviewing and considering the market needs.
The goals for the future scope of business are 1GW for annual global production and sales by FY2015 and around 2GW for the annual global production and sales of thin-film solar by FY2020.
For this joint project, Sanyo will draw on its solar cell technologies, based on the technology acquired through the development of the HIT Solar Cell, which is capable of the world's highest conversion efficiency, as well as its extensive research performed over the last thirty years related to thin-film solar cell technologies.
Nippon Oil Corporation will utilize its raw materials technologies, such as petroleum production, acquired through petroleum processing and chemicals manufacturing, and the strong relationships it has established with oil-producing countries in the Middle East etc. which are expected to become major markets for photovoltaic systems in the future. Thus, the new joint company will integrate the strengths of the two companies and work with the aim of becoming a global leading company in the production of thin-film solar modules, accelerating the commercialization of high-performance, reliable thin-film solar systems, a market segment expected to rapidly grow in the future.
7th May 08 - $20m plan aims to boost solar tech in new buildings in Singapore
THE Economic Development Board has launched a $20 million solar capability scheme to help the private sector become more environmentally friendly. Announced at the Semicon Singapore show yesterday, the scheme aims to encourage companies to install solar technology in new building projects. It is offering financial support of up to 40-50 per cent of the cost of solar solutions, capped at $1 million per project. 'The scheme enlarges the practice field for our solar energy ecosystem,' said EDB managing director Ko Kheng Hwa. 'We believe this will go a long way towards building up critical capabilities among various players, including system integrators, architects, engineers and developers. 'The implementation of capabilities nurtured under the scheme will be exportable, as there is growing demand internationally for eco-friendly developments. These capabilities will also support wider adoption of solar energy in Singapore as its cost continues to fall.' The scheme is applicable to new private sector building developments that meet Green Mark Gold standard, under a benchmarking system administered by the Building and Construction Authority. Projects at existing buildings may be considered case by case. The scheme is the latest initiative by the Clean Energy Programme Office (Cepo) led by Mr Ko. Set up early last year, Cepo is an inter-agency workgroup tasked with coordinating clean energy efforts. Yesterday, Cepo announced the formation of a clean energy international advisory panel . Chaired by EDB chairman Lim Siong Guan, the panel will advise Singapore on the development of a clean energy industry and help chart R&D direction. Panel members include British parliamentarian Ronald Oxburgh, European Photovoltaic Industry Association president Winfried Hoffmann and Norway's Renewable Energy Corp president and chief executive officer Erik Thorsen.
6th Dec 07 - Alzenau, Germany: Schott Technology Raises Cell Efficiency While Lowering Silicon Usage
SCHOTT Solar's solar cells are set to become more efficient thanks to a new surface structure, called ISO Texture. ISO Texture is a wet chemical process to roughen the surface of a solar cell. With the new surface structure the photovoltaic cells can convert more of the sunlight falling on them into energy, achieving greater power density and providing a new class of performance. This new technology, developed by SCHOTT Solar in its own research centers with the aid of research institutes and German industry, has been integrated by SCHOTT Solar into its existing manufacturing process. An additional benefit of the new technology is that it allows SCHOTT Solar to manufacture solar cells using fewer resources. Thanks to the improved surface, the amount of silicon - currently a scarce raw material - needed per watt of energy produced in the module has been reduced. The new process makes the entire production operation more efficient. This process reduces the reflection of impinging light particles onto the cell surface, and also expands the surface area of the cell by texturing in small hills and gaps on it. Angular impact of the light particles allows for less recombination of the charge carrier due to the shorter way to the p-n junction and more photons penetrating the material by angular reflection. With the ISO Texture surface structure SCHOTT has been able to increase the output of its modules by 0.3 to 0.5 %, while using 5% less silicon per watt. In addition, the new surface structure improves the appearance of the modules, since the even dark blue texture gives a particularly uniform look, which will become unique to SCHOTT Solar modules. "Introduction of the ISO Texture has meant that we have yet again been able to reliably increase the efficiency of the SCHOTT Solar module. For our customers that means high quality and even more power at an attractive price" explains Michael Harre, Management Committee Member at SCHOTT Solar, responsible for Marketing and Sales. "The challenge was particularly how to integrate the results from our research laboratory into the existing production lines" adds Wilfried Schmidt, Research and Development Manager, Solar Cells. "The close cooperation between R & D and manufacturing, a tradition at SCHOTT Solar, meant that we were able to implement this project in a very short space of time." Initially, the ASE-165 GTFT/MCI series of modules will be delivered with the new texture, the 'I' in the product designation standing for 'ISO Texture'. The technology will then be successively extended to all product ranges and production facilities. SCHOTT is one of the world's leading manufacturers in the photovoltaic sector.
5th Dec 07 - Tokyo, Japan: SANYO to Establish Advanced Photovoltaics Development Center
SANYO Electric is to establish a new 'Advanced Photovoltaics Development Center' within its Gifu Plant in Japan. The plant, located in Anpachi, Gifu prefecture. SANYO is currently advancing the development of its solar technology, primarily focused on its proprietary rojunction with Intrinsic Thin-layer (HIT) solar cells, at the Advanced Energy Research Center of R&D Headquarters and at the Solar Division of the Clean Energy Company. The 'Advanced Photovoltaics Development Center' will promote the development of next-generation thin-film silicon solar cells aiming at reducing the cost of solar power generation to match costs as low as electricity charges applied to home-use. Dr. Shinya Tsuda, SANYO's vice president and General Manager of R&D Headquarters, commented, "SANYO considers next-generation thin-film silicon solar cells as the third generation of solar cells, following amorphous and HIT solar cells. With this third generation of products, we aim to commercialize them to decrease the cost of solar power generation to match or be comparable to current home electricity bills in the future." He also added, "Based on a medium- and long-term perspective, we will begin full-scale development of next-generation thin-film silicon solar cells in order to meet demand for highly efficient but much cheaper solar cells as well as HIT solar cells to meet higher-end needs demanding the world's best efficiency." Resources at the Gifu Plant already exist that can be utilized for next-generation thin-film silicon solar cells, including such things as a basis for technical development of semiconductors and thin-film transistors. Aiming at a huge increase in sales, especially in the overseas market, SANYO will invest 80 billion yen in HIT solar cells over the next three fiscal years and increase production capacity to 650 MW by FY2010, up 250% from the current amount.